Sale of NPVs, vans, pickup trucks, light trucks
The sale of NPV vans has increased in recent years. The popularity of these commercial vehicles is due to several factors: their versatility, finish and variety. Uncomfortable utilities are a thing of the past. Mercedes-Benz's range of light commercial vehicles includes practical and comfortable vehicles adapted to the different tasks required by professionals.
Mercedes vans are known for their robustness, design and practicality. They have been designed to withstand long journeys or business trips both in the city and over long distances. As a world-renowned brand, Mercedes has considered the needs of all types of customers with its range of utility vehicles. The advantage of a Mercedes-Benz van is its fuel economy and consistent performance, even after several kilometres of driving. Mercedes light commercial vehicles are suitable for urban traffic as well as for road and highway traffic and secondary roads. They have been designed with the user in mind!

Light commercial vehicle purchase: Choose from the Mercedes-Benz range
In terms of reliability and robustness, Mercedes is the absolute reference for commercial vehicles. Extensive research and development have allowed Mercedes light commercial vehicles, Citan, Vito, Sprinter, V-Class and X-Class, to become a benchmark in comfort and fuel economy. These features make them an essential choice when it comes to buying a small utility.
If you wish to buy a utility, we suggest you visit our showroom and talk to one of our sales representatives who can advise you and provide a quotation.
Buy a utility vehicle: the Mercedes-Benz range of light commercial vehicles
The Lambert garage only sells the Mercedes-Benz brand. Thanks to a wide choice of vehicles, the Mercedes-Benz range can meet a variety of requirements. Whether the task calls for passenger or freight transport, Mercedes-Benz and our Lambert garage have it covered. The independent, the delivery person, the airport shuttle service and many other uses will find a solution adapted to their needs with Mercedes.
Mercedes-Benz light commercial vehicles are equipped, as standard or optional, with technologies that make driving easier for you, such as power steering, air conditioning, airbag, automatic transmission, rear view camera or cruise control.
Most of our vehicles can be adapted to various needs such as refrigerated transport or vehicle installation for building professionals.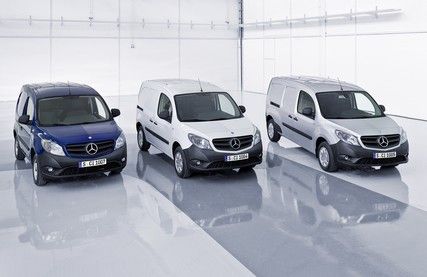 Citan
 The Citan is one of the most popular Mercedes utilities. It features an automatic gearbox, outstanding comfort and a stunning design. The integrated speed limiter, available as an option, will assist you throughout your journey. It also features standard safety equipment to ensure the safety of the driver and passenger. Both private individuals and professionals are won over by the Citan range. Due to its interior comfort, this vehicle can be used as both a utility vehicle and a recreational vehicle.
CITAN is available in two versions: the combi and the van.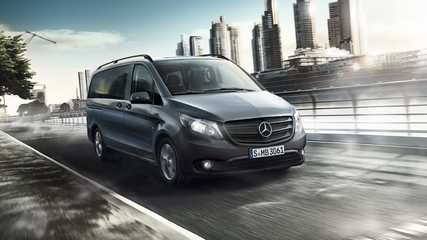 Vito
 The Vito is at the heart of Mercedes' utility range between the Citan and Sprinter. It is an ideal vehicle for the transport of goods thanks to its very practical tailgate. It is a vehicle dedicated to transport while keeping a manageability that allows you to drive on both motorways and urban circuits. The comfort of this van is incomparable, its design very tempting and its practicality essential.
The Vito range is available on 3 models: Van, Mixto, Tourer.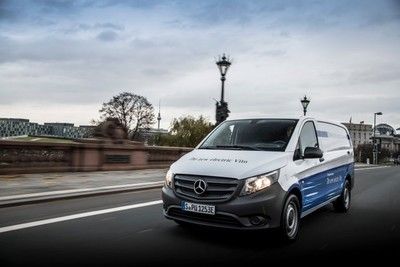 eVito
 This is the all-electric version of the mid-size Vito van. The diesel engine has given way to an electric propulsion system designed by Mercedes. It is equipped with a 113 hp electric motor connected to a 41kWh battery (similar to that of the hybrid Mercedes S-Class), which provides a range of up to 150km between charges. Once the batteries are exhausted, they can be recharged in 6 hours from a flat battery using a Mercedes wall charger.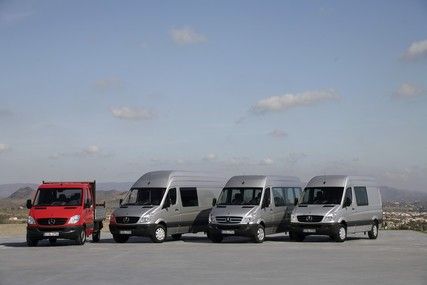 Sprinter
 The third generation of the best-seller: The Sprinter. Since its launch in 1995, the Mercedes-Benz Sprinter has given its name to a whole class of vehicles thanks to its exceptional qualities. It is an industrial vehicle with a professional user base.
 The third generation of the best-seller celebrated its world premiere on February 6, 2018 in the new Mercedes-Benz logistics centre in Duisburg. It will be available in 2018 from your utility specialist, garage Lambert, official Mercedes-Benz dealer.
 Several versions of the Sprinter are available with different wheelbases and a different payload.
The new eSprinter will be launched in 2019. This model is part of Mercedes-Benz Vans' strategy to electrify the commercial vehicle fleet.
Mercedes V-Class
 The Mercedes-Benz V-Class has been manufactured since 1996 as a high-capacity minivan in the Vitoria plant in Spain, from which it takes its name and that of its commercial vehicle counterpart, marketed under the name Vito.
 If you need a minibus, the Mercedes V class may be the right solution due to its large capacity.
Elegance, style, comfort and space are part of each V-Class. The universal concept offers the right solution for every occasion and every type. With its innovative security systems and generous space, the V-Class reflects a family spirit. For all adventurers and sports enthusiasts, the powerful engines and flexible seating concept offer ideal conditions for every trip.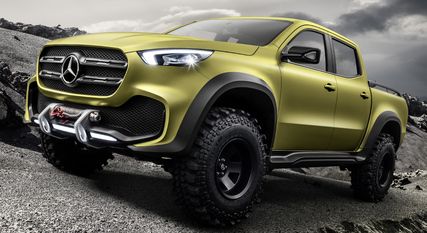 X-Class
 The X-Class is especially renowned for its power and robustness on complex trails and tracks. This 4×4 will seduce the whole family but also the professional.
 The new pick-up, the X-Class, is a top-of-the-range pick-up. The X-Class has all the strengths of a conventional pickup truck – robust, functional, resilient and off-road. The features of the X-Class are a typical design from the brand to the star, from comfort and driving dynamics to safety, making it a true Mercedes.
 The X-Class pushes the boundaries of the classic pickup truck world. It enhances the valuable assets of a mid-size pickup truck with the typical Mercedes-Benz features: driving dynamics, comfort, design, safety, networking and global individualisation.